Worcestershire Record No. 18 April 2005 pp. 6-7
THE PINE BUNTING IN WORCESTERSHIRE 15TH Ė 24TH JANUARY 2005
Gavin Peplow
On the late morning of Saturday 15th January I headed west towards Croome Park with thoughts of trying to see the wintering Great Grey Shrike which I had only seen briefly and at some distance the previous morning. En route I decided I would divert the short distance to New Farm, Wadborough to check a set-aside crop where I had noted a very good flock of Reed Buntings during a couple of earlier visits around Christmas. This area had also proved attractive to Brambling in previous winters.
The site comprised a strip of mixed sunflower and wheat adjoining a thin length of scrubby woodland and had been left primarily as winter feeding for the local Pheasants. I was pleased to find that the number of Reed Buntings had increased since my last check of the area and there were also a few more Yellowhammers and Greenfinches. At the back of my mind I idly began to think that a flock this size could possibly offer me a chance to find something really unusual like a wintering Little Bunting !!
I followed the edge of the woodland and was able to get quite close to a lot of the birds as they regularly flew up from the field to perch in the assorted hawthorn and ash trees. Frustratingly after a few minutes the weather turned to light drizzle so I backtracked towards the road. Half way back up the track the whole flock flew up with many birds actually flying into trees close to me. On hearing a Tree Sparrow calling, a scarce bird now in Worcestershire, I raised my bins to try and get a view of it. I located several Yellowhammers in a hawthorn bush about 20 yards away and as I checked through these I locked on to a bird facing directly towards me. Its head pattern showed a dull claret coloured face with a paler off-white band extending from the base of itís bill to the rear ear coverts below the eye. Also noting an off-white lower throat above a rufous upper breast and flanks, along with a paler central crown, I quickly realised that I was looking at a male Pine Bunting! Hardly believing what was clearly in front of me, I edged my scope into a position where I could get a better view of the bird. It sat there seemingly unconcerned at my presence and quickly gathering my thoughts, I reminded myself that I needed to be sure that there were no signs of any yellow in itís plumage, particularly on itís flight feathers as this would indicate a hybrid parentage with itís closest relative the Yellowhammer. The bird showed very well head on for several minutes before flying off with the rest of the flock, but had unfortunately not offered me an opportunity to see its upperparts and tail.
Considering my views and the nature of the site, I felt it was important to be 100% sure that the bird showed no signs of hybridisation and also to alert the landowner to the likelihood of significant interest from the birding community! On the other hand, I also wanted all local birders to have an opportunity to see the bird as quickly as possible so I initially alerted the other birders in my family Ė my brother Francis and father Richard, along with Steve Whitehouse. They helped spread the news to several others locally and soon a few of us had gathered to try and relocate the bird with all my thoughts of the Shrike by now well forgotten!
Initially elusive, I managed to pick out the Pine Bunting again in the same bush I had first seen it in, but this time we stood a further away to ensure that we didnít cause any disturbance to the flock. We all got reasonable views over the next hour or so and during which time I obtained a look at the upperparts and also itís gleaming white underwing and axillaries. With identification secured, we all wanted to get the news out as soon as possible. Frustratingly the landowner was out and it was after 9pm before Andy Warr our County Recorder and local birder John Hodson secured permission to use his farmyard opposite the site to facilitate parking off the narrow access road. Steve quickly broadcast the news on Birdline Midlands and other information services were also alerted.
The farmer was delighted that such a rare bird had chosen his land on which to take up residence and was pleased to accommodate the cars of visiting birders. Thankfully the Pine Bunting remained faithful to the crop and adjoining woodland over the next nine days and although very elusive for quite long periods, it was appreciated by several hundred birders during this time. Efforts to tempt the bird into the open and facilitate viewing by placing grain on an old piece of carpet were sadly ineffective, suggesting that there must have been plenty of food remaining in the cover of the set-aside crop.
Remarkably this was the second individual of this species to visit Worcestershire and the Birdline Midlands area, the last being near Halesowen in February 1996.
Thanks are extended to the farmer for his full co-operation in allowing access and to all visiting birders who generously donated more than £1200 to the Tsunami appeal.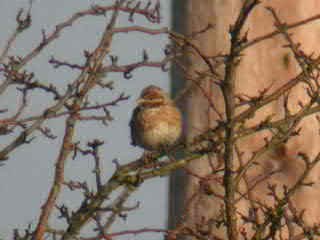 Pine bunting at Wadborough. Photo © R Newton