Worcestershire Record No. 20 April 2007 p. 26
HAWFINCHES AT BRONSIL, NEAR LEDBURY
Peter Holmes
English Nature's office at Bronsil House (just over the border in Herefordshire) is a very pleasant place, which this winter was enhance by the presence of up to nine hawfinches. These were feeding on the large crop of yew berries, and between feeds they obligingly perched at the top of trees giving excellent viewing. One of these birds was caught on 5th January 2006 in a mist net erected near peanut holders specifically to catch tits. We did have a CD playing hawfinch at the time, but subsequent experience suggests that wasn't relevant; the bird was probably coming down to fallen yew berries.
I extracted the bird from the net, taking care that my fingers didn't go the way of a cherry stone (one slight slip got me a sharp nip). After ringing, Tim Dixon held the bird for some photos, and he came in for some more significant damage, with two large beak marks on his fingers. However, no blood was drawn and no digits broken. The bird was a female, in immaculate condition. Since hawfinches have a complete post-juvenile moult the age could not be determined.
Only 25 hawfinches were ringed in the British Isles in 2004, and only 14 in 2003. Since ringing started in Britain, only 1421 have been ringed (to December 2004). Given the influx this winter, it is probable that many more will have been ringed, with the possibility we may be able to determine the origin of these birds.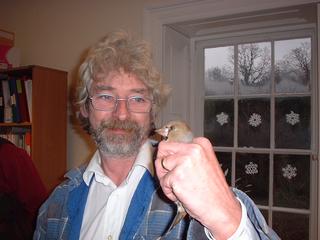 A bird in the hand... ... a Bronsil bird caught
for ringing. Picture Peter Holmes.