Worcestershire Record No. 21 April 2007 p. 5
WORCESTERSHIRE'S ANCIENT TREES - APPLYING FOR A LOTTERY FUND GRANT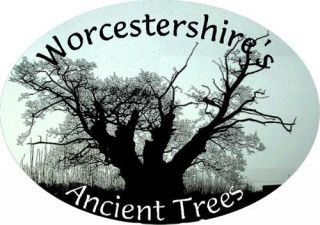 After much debate the Recorders Committee decided to apply to Heritage Lottery Fund for support to employ a person to take forward our project - The Worcestershire Register of Ancient Trees. Although we have collected a lot of very useful data on our Ancient Trees we know there are a lot more out there! To gather further information we consider it necessary to undertake parish by parish surveys and to involve local people. As well as collecting data this will involve people in a biodiversity awareness raising project and will hopefully therefore improve conservation of ancient trees. It is impossible to take the project forward with volunteers alone because of the need to contact many people and arrange a series of local events and meetings to inform, teach and activate people. There is also ever increasing administrative load. Therefore we need a project officer, working with present and new volunteers, to take the project forward.
If we are successful in obtaining a grant the project will run for two years. The Project Officer will be based at the Worcestershire Biological Record Centre and the administration of the post will be within the same arrangements as for the WBRC staff.
We hope to hear if we have the HLF support by January 2007
Anyone who has completed an application to HLF will know that it is a lengthy and onerous job and the Committee wishes to offer thanks and appreciation to Becky Lashley who has worked here way through endless drafts to submit the application in an acceptable form. There have been delays and hitches! Applications can be submitted by email - unfortunately ours "disappeared" along that route which added a month or two to the process! There are no fewer than 37 questions to be answered (some hi detail) on the application form! Plus letters of support have to be obtained, declarations signed etc! All very right and proper, but it's a pretty exhausting process.
To give you an idea of what is required when apply for an HLF grant Question 2 asks "Briefly describe what your project will do and what you will spend the grant on "
Answer:
"The project will enable people to discover their cultural and historic natural landscape heritage and explore its current biodiversity by learning about and recording the ancient trees within their parish. The grant will employ a project officer and purchase educational and promotional materials and equipment.
The project officer will develop and run a series of events and activities for local people and raise awareness of the importance of ancient trees to wildlife and the contribution they make to our landscape; train people in the skills needed to undertake ancient tree surveys; and develop a database to store survey information".
There you have it in a nutshell - and only 35 more questions to answer! Keep your collective fingers crossed!