Worcestershire Record No. 24 April 2008 p. 11
SEASIDE IN LITTLE COMBERTON OR ERODIUM MARITIMUM ON A VILLAGE DRIVEWAY.
Harry Green (writer) Brett Westwood (who saw it first), Bert Reid (who confirmed the sighting)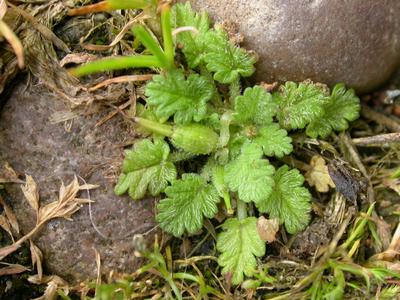 Erodium maritimum, Little Comberton, 2.5 cm across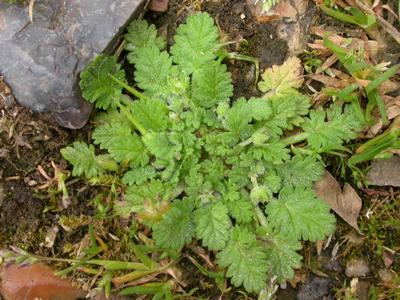 Erodium maritimum, Little Comberton, 4.5 cm across
Pictures © Harry Green
I was standing on weedy gravel patch where we park our cars at home in Little Comberton on 15th May 2008 and chatting to Brett. when he suddenly became very excited about small flat plants at our feet! His diagnosis was of Sea Stork's-bill Erodium maritimum which has not been seen in Worcestershire VC37 for over 50 years. In the past it was a species of the sandy heaths and fields around Kidderminster. These old populations are, as far as we know, now extinct, despite considerable searches for the plant by the Worcestershire Flora Project. The latter explains Brett's enthusiasm and instant diagnosis as he had searched for the plant on many occasions in recent years in its old haunts. Nowadays the distribution of the plant is almost entirely coastal with a few inland sites where it has accidentally been introduced.
So how did it arrive on my drive in Little Comberton? We shall never know for sure but it is growing near the spot where a car is parked that has often been to the Pembrokeshire coast in recent years. The seed may have been carried on or in the car and fallen on the parking place and germinated. The drive consists of hard packed gravel etc and is weedy in many places. Brett also found Cerastium diffusum, another plant of dry open sandy places, common around the coast but scarce inland. Although occurring in parts of north Worcestershire it is scarce in the south and this is the first record for SO94.
Bert Reid confirmed the identity of both these plants.