The Rarest Fly in Worcestershire: Paraclusia tigrina Diptera: Clusidae) at Tiddesley Wood
By David M. Green
Late summer-December 1999, a Malaise trap lent by Peter Holmes/English Nature, was pitched on the SW edge of Tiddesley Wood. During the trapping, Bow Brook flooded leaving a tide mark on the trap beetles floating on water were captured, a new way of using a malaise trap.
Two specimens of Paraclusia tigrina (Diptera: Clusidae), identified using Stubbs 1982, were found in the trap during August-September. The intense dark brown marks on the wings are characteristic a species possible to provisionally at least recognise alive without a microscope. The body is predominantly yellow, 7mm long, with red eyes.
The fly is associated with dead wood such as fallen trees, is generally difficult to find, localised to a limited area of sites, so may deserve to retain a category of conservation concern. But it has now been found in a number of sites nationally, suggesting that it is more widespread than first thought. Steven Falk tells me that only recently the species has been found in Warwickshire (despite much surveying). Howe et al (2000) report records of the fly on mature horse chestnut in open parkland, and in woodland, in Caernarvonshire. A fly was caught on a sticky trap in a greenhouse 200m from fallen beach; apparent oviposition was observed in cracks on a trunk, and flies showed wing-waving behaviour. In Anglesey, it was recently recorded on recently fallen mature beech in a row of mature beeches in sheep pasture. It is known to occur in rather isolated large trees in hedges or narrow strips of woodland (Stubbs 1982). The larvae of the family are thought almost certainly to develop in moist rotten wood. Few species of the family as larvae are known (Smith 1989).
In Tiddesley Wood beech is limited to small trees, and most of the wood was clear felled around 1960, therefore lacking in mature trees.
The present published category for the fly is RDB2 (Vulnerable) (Ball 1994; Falk 1991) the rarest recorded fly in Worcestershire, though the status is due for reconsideration, as in recent years there have been more national records. Presently, to my knowledge, in Worcestershire there are no other RDB2 flies known, and no RDB1 flies, referring to latest categories (Ball 1994). Much remains to be discovered. Fly recording is very limited still in Worcestershire.
Time spent searching in the SW parts of Tiddesley Wood August-September looking for the fly might be rewarding (probably in shady conditions), typically on fallen trunks. Observation of the site of larvae would be of interest for precise information for site management: i.e. the character of the dead wood used by the fly and larvae and other invertebrates associated. Observations of oviposition would indicate the conditions required.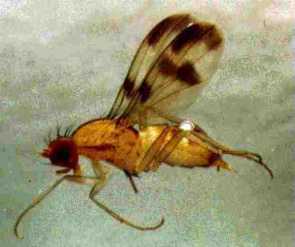 References
| | |
| --- | --- |
| | BALL Stuart G 1994 Recorder 3.3 (DOS software). JNCC |
| | FALK Steven 1991 A review of the scarce and threatened flies of Great Britain (1). Research and survey in nature conservation 39. JNCC. |
| | HOWE EA, HOWE MA and BRATTON JH 2000 Paraclusia tigrina (Fallen, 1820) (Diptera, Clusidae) in Caernarvonshire and Anglesey. Dipterists Digest 7(2): 80 |
| | SMITH KGV 1989 An introduction to the immature stages of British flies. Handbk Ident. Br.Insects 10(14). RES. |
| | STUBBS Alan E. 1982 An identification guide to British Clusidae. Proc.Trans.Brit.Ent.Nat.Hist.Soc. 15: 89-93 |